There is this machine (cycling machine) sat in the library upstairs, gone dusty and hardly any use at all.
There is this momma, gained so much weight when she sets her feet in Europe. Blame the lovely foods. Well, yes! She is learning to cook and bake. That's ME! The AMBITIOUS ME.
I hate exercise. I don't do any sports. Don't ask me how I passed my Physical Education at school. I only donate some basketballs and volleyballs just to get rid of the subject. Okay, corruption starts at school in the Philippines. Ha. Well, that's beside the point now. Let's get ambitious here!
Every time I go to our bedroom, I always pass the library and see the cycling machine, I am like. Hey! Yow! How ya doin' ovah there? Bored? Okay! Let's have a ride. Then, I go. Ooops! That's 2 minutes, burned 8 calories. Har har har. I can't breathe. I realize that it's too bad and poor so, I decided to carry on till I burnt out 64 and that was a hard work but hey! I wanted to wake up smoking hot a sexy tomorrow! I know that's not how it works...ambitions...ambitions...then bang DONE 130! Yepee!
All sore. I think, I gonna die. I also heard my friend Shannel doing some good job. She's going to be smoking hot a sexy soon. I am not having that! See, I am not just ambitious. I am a copy cat, too. Haha. So I push myself and took a ride and did 132...surely but surely. I'll get you Shannel.
I told
Shannel
. She said it's good. She has been a very supportive friend. She encouraged me, that we are not just doing it for ourselves but we are doing it for the people we love, too. I turned and look at my little girl. Oh yeh!
Shannel
is right. I don't want my little girl growing up without a mummy. I do need some discipline.
I will never eat a bar of chocolate from now on, I said to myself. But, the devil won't leave me alone. He, drag me to the cupboard to get some chocolates. I screamed "NO" but he insisted and I did not want to be rude either so, I grabbed a little portion. I shared it with the devil so, it wasn't a full bar. But hey! I did not forgot what my friend Shannel said. I burnt out 141...a little bit more than DAY 2. :)
At DAY 4, I finally killed the rice. I don't want it anymore. It's a poison. Well, devil is now getting more portion of the chocolates than me. He can even have it all. I don't care as long he won't come and drag me back to the cupboard. Not being funny, I am looking after my child while doing it and burned more calories-310! Yeehaa!
I am now getting lazy but, I have to do this. A little more than DAY 4. I know, I can make it.
DAY 6 was a killer. I was a bit busy. We did some shopping in the morning and had been out and about. There was a devil in the supermarket too that offered 3 scoops of ice-cream. Can you even say "NO" to that? You can't! I was really guilty and sat on the machine for nearly 17 minutes and did a hundred. So much LESS than the previous days. I am not very proud of that but there are things that needs to get done.
Day 7...to be continued (that's tonight's job)
So, here's the ambitious mummy and Olivia, sending you our love for dropping by.
This also for the seventh round of
alphabe-thursday
. Pop by and see more "A" post. I am sure lovely
Jenny
would be grateful if you do.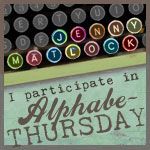 Read More